Decimation X Featured in Famitsu, Top Gaming Mag in Japan
Thursday, February 10, 2011
By: Matthew Doucette
Decimation X was featured in Famitsu March 2010, almost a year ago! Famitsu is the top gaming magazine in Japan. This is such an honor. Further, this marks all three of our XBLIG games as having been featured in Famitsu! The last time, or more correctly the second time seeing how we missed the first time by almost a year, Score Rush and Decimation X3 were two of Famitsu's top three picks.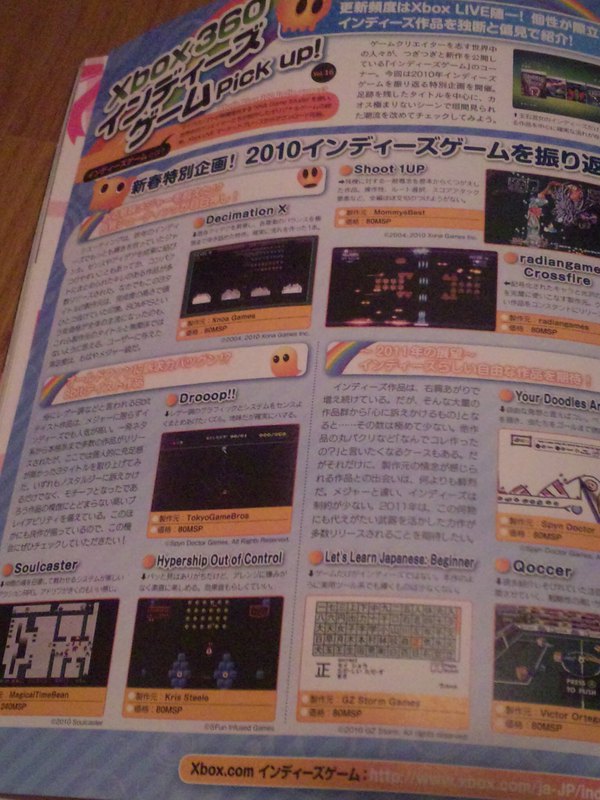 Decimation X featured in March 2010 issue of Fatmitsu!
Source: http://twitpic.com/3uinfx
You might also want to check out Decimation X's sequel, Decimation X3.
Also, our beloved friends at Mommy's Best Games (Shoot 1UP), Radiangames (Crossfire, also see Crossfire 2), Fun Infused (Hypership Out of Control), Magical Timebean (Soulcaster, also see Soulcaster II), and Spyn Doctor Games (Your Doodles Are Bugged) are also featured! It's quite an amazing array of great indie games and developers! I have personally purchased all of these games. Shoot 1UP has won many awards, and Crossfire 2, Hypership Out of Control, Soulcaster II, and Decimaton X3 were all a part of the Indie Games Winter Uprising.
Much thanks to gaspode_t for sharing this!
More Decimation X Articles:
About the Author: I am Matthew Doucette of Xona Games, an award-winning indie game studio that I founded with my twin brother. We make intensified arcade-style retro games. Our business, our games, our technology, and we as competitive gamers have won prestigious awards and received worldwide press. Our business has won $190,000 in contests. Our games have ranked from #1 in Canada to #1 in Japan, have become #1 best sellers in multiple countries, have won game contests, and have held 3 of the top 5 rated spots in Japan of all Xbox LIVE indie games. Our game engines have been awarded for technical excellence. And we, the developers, have placed #1 in competitive gaming competitions -- relating to the games we make. Read about our story, our awards, our games, and view our blog.