Decimation X3: 6th of Top 20 Best XBLIG Games of 2010
Tuesday, January 11, 2011
By: Matthew Doucette
Download: Decimation X3 (Xbox LIVE; 80 MSP)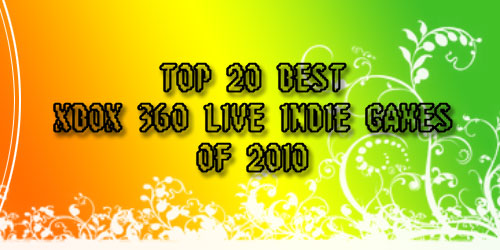 XBLIGR picks Decimation X3 for its "Top 20 Best Xbox 360 Live Indie Games of 2010".
XBLIGR names Decimation X3 #6 of its "Top 20 Best Xbox 360 Live Indie Games of 2010":
How do you improve on perfection? Decimation X was arguably the most addictive and ideal multiplayer game released on the XBLIG platform in 2009. Now Xona Games has returned with the next iteration and it still slaughters everything around it. The levels are harder, the enemies look a little different, but the song remains the same. Perhaps graphically things look a little more LCD and little less OG Space Invaders, but whatever it is, its sexy. Well take it, for all its worth, and in this case that is a measly eighty pence. Do yourself a favor and jump in headfirst.
The song, actually, is a remake. If you play both games back to back you'll see this.
And I was oblivious to this but, Decimation X, the original game in the series, came in as #4 on XBLIGR's "Top 10 Xbox Live Indie Games of 2009" list:
Holy particle emitters Batman! If you like Space Invaders, and you like glow sticks and maybe water bottles and pacifiers and plush to backpacks, then you literally could not find a more perfect game to suit your cerebellum. Fast and furious shooting to a throbbing trance soundtrack and more flying sparks than your eyes can eat, Decimation X is a space shooter of the highest caliber, and a price that cant be beat by any Arcade game; at 80 MS points, its a complete steal.
More Decimation X and Decimation X3 Articles:
About the Author: I am Matthew Doucette of Xona Games, an award-winning indie game studio that I founded with my twin brother. We make intensified arcade-style retro games. Our business, our games, our technology, and we as competitive gamers have won prestigious awards and received worldwide press. Our business has won $190,000 in contests. Our games have ranked from #1 in Canada to #1 in Japan, have become #1 best sellers in multiple countries, have won game contests, and have held 3 of the top 5 rated spots in Japan of all Xbox LIVE indie games. Our game engines have been awarded for technical excellence. And we, the developers, have placed #1 in competitive gaming competitions -- relating to the games we make. Read about our story, our awards, our games, and view our blog.