The Cake is a Lie?
Monday, November 12, 2012
By: Matthew Doucette
No!
The cake is real!
Turbulenz has just pushed an online multiplayer version of Score Rush out as a public beta. They wish to test scalability of the multiplayer component. They've tweaked a few things, such as making it much easier to join into a game. Try it out!
Send them your feedback by posting on their main page: turbulenz.com. One click send. Easy!
The coolest thing of all, is Ian Ballantyne of Turbulenz made a Score Rush cake! How cool is that? I cannot explain what it's like to see a cake verison of your own game. And we cannot express how much we appreciate this! Thank you Ian, and thank you Turbulenz! P.S., the cake is officially called "Score Rush Multi-cake"! :)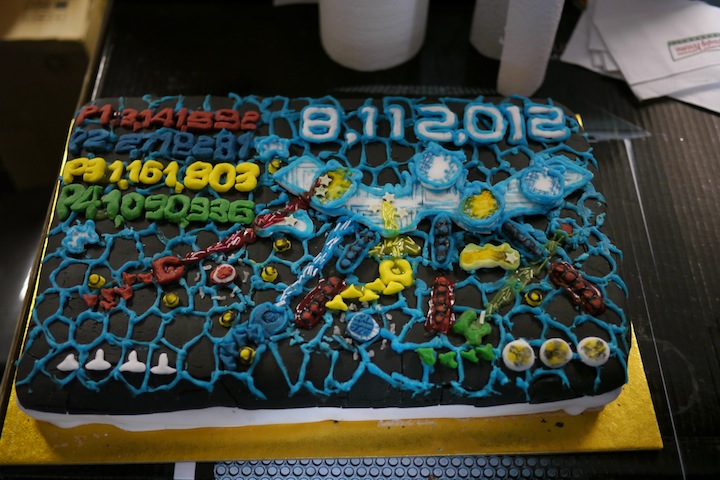 Score Rush cake, created by Turbulenz to celebrate the Score Rush online multiplayer public beta (free).
More Score Rush Articles:
About the Author: I am Matthew Doucette of Xona Games, an award-winning indie game studio that I founded with my twin brother. We make intensified arcade-style retro games. Our business, our games, our technology, and we as competitive gamers have won prestigious awards and received worldwide press. Our business has won $190,000 in contests. Our games have ranked from #1 in Canada to #1 in Japan, have become #1 best sellers in multiple countries, have won game contests, and have held 3 of the top 5 rated spots in Japan of all Xbox LIVE indie games. Our game engines have been awarded for technical excellence. And we, the developers, have placed #1 in competitive gaming competitions -- relating to the games we make. Read about our story, our awards, our games, and view our blog.